Ohh you guys came alone, no Py this time?
No Py this time; missing all the noise and fun around.
(How can you miss the noise? It is supposed to be a disturbance.)
These were some introductory reactions from friends meeting us at FOSSASIA 2017.
Kushal and I learned our lesson last year. So, this year we decided not to take Py (who has only grown to be 1000 times more mischievous than she was the last year). But when the time came to leave her with my mom and go to the airport, I wasn't very sure. The intelligent me took a backseat as the mother took over. It is an overcompensation I have to go through every time I take a step which does not include her directly.
Attending the FOSSASIA summit is always like a homecoming for me. It is the conference where I delivered my first talk. It is the conference where I found my way, direction in the legal field of the open source ecosystem. It is a place where I meet my best of friends. To cut a long story short, I am in love with FOSSASIA summit.
Meeting the Speakers
FOSSASIA Summit is a conference that is truly diverse in character, almost 200 speakers from over 20 countries. The organizers, every time arrange a speaker's introduction session wherein speakers can actually get together and know each other. This year the meeting had been organized in the Microsoft office. We had the chance to meet other speakers. I had planned the talks to attend. We were also given a nice tour of the Microsoft office and got an opportunity to peep into the workspace of the Microsoft employees.
Day 0 is for PyLadies
September 2016, Hong came to Pune. She conducted a session in PyLadies Pune (love her for that). In a conversation with Hong, I shared with her the PyLadies Pune's journey.
I asked Hong if we PyLadies Pune could be at FOSSASIA. She readily agreed and Pyladies began its journey to FOSSASIA.
I arrived a bit early to set up on Day 0 at Science Center, the conference venue to arrange and set up our PyLadies table. I carried the stuff to set up the booth. Pooja also came in early. We quickly set everything up before the morning coffee break. Kiwi needs to be thanked profusely for all his help.
Our table was ready before the morning coffee break. The crowd poured in. Mostly the regular ones. There were questions.
What is PyLadies?
Is it only for ladies?
What am I (being a lawyer) doing in PyLadies?
How to join Pyladies?
Do we have an SG chapter?
We answered them. But there was a question that struck me. A Grade student asked, "Do we actually need a woman-friendly environment (to work) in today's day and age?" I was stunned, shocked, sad and happy at the same time. The first three emotions were because I thought how unfortunate it was that she never had any idea about what people outside her sphere has to face. I was happy at the same time that they (if we consider her as the representative) do not have to face what we have to as women.
Among all the props, I carried our famous PyLadies Pune Umbrella that stole all the attention. I was delighted to see people taking photos with that.
Kushal and I wanted to attend a talk - "Let's Make Technology more Inclusive" by Bunnie Huang. Last year, I missed his talk, thanks to Py's treasure hunt. This time, I didn't want to. But someone has to be there with Pooja at the booth. Pravin and Siddhesh helped.
The talk was truly informative. The after-talk discussion with Bunnie about hardware patent and copyright opened up a new avenue to explore for me. Bunnie has written a book called Hardware Hackers. We managed to get a copy of the book signed by him.
Day 1: PyLadies and talk by legalese
I reached a tad late for the conference because of the new treasure chest I found that was Bunnie's book. I was reading the book till early morning. The book has opened up a new world for me. It gave me the idea of something I wanted to know for a long time - "How hardware is being made?". The community and culture of hardware makers have been pictured beautifully.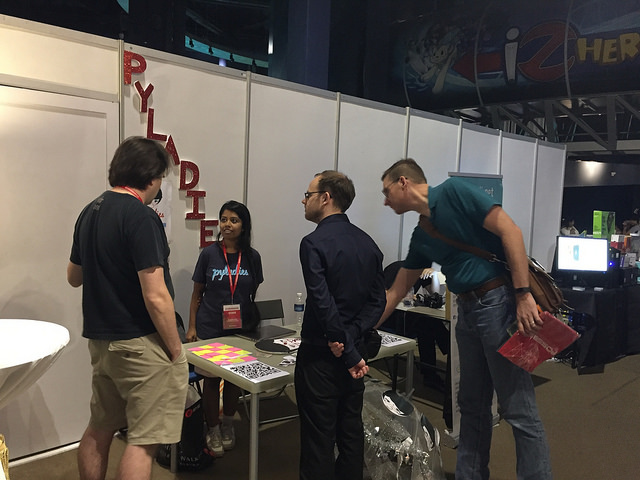 The booth has been moved from the place it was on Day 0. I joined Pooja in the booth. Surprisingly, people were less inquisitive about the fact if PyLadies was only for women that day, in fact for the rest of the conference. Maybe the presence of Pravin, Siddhesh, and others echoed the true intention of PyLadies that it is for women and friends.
The next thing on my to-do list was to know how software is eating contract drafting by V.G, legalese. I shared this idea with my lawyer friends. From that very moment,
they have abandoned me. My friends are scared of the job scarcity and competition. I guess this will assure them that software will make your life (typing the whole large document) easy. It can never take away the expertise we have as a lawyer. You may hate me for saying this but this is the future. I was curious to know how the future of the legal business/system will look like.
The Python track was going on in the lab. I did attend a talk and a workshop on MicroPython over there. It is amazing how every time I blink a led by writing something on my laptop.
Day 2: PyLadies and my talk
I went to the PyLadies table for some time in the morning. The curiosity to join PyLadies and to click a picture with the umbrella continued. I met a friend I made last year. She, with her whole family, was the attending this time as well. I loved the fact that she really liked the conference and was attending this year too.
Then it was the time for my talk. It was scheduled for after lunch. So, after a quick lunch, I went to my room - the internet, society and Politics room. My talk was on the trends of choosing licenses in the Python ecosystem.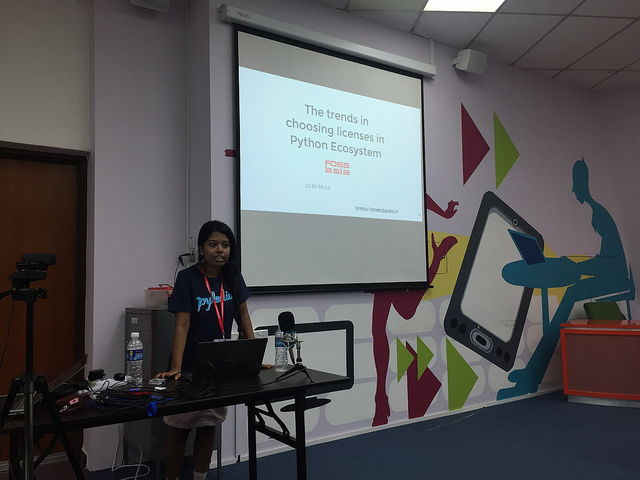 Projector ready, speaker's view set, ready (I love being perfect and on time), I braced myself and boom, the projector went off. The husband understanding that his wife was approaching paranoia and was in a jolted state, helped me. It could not be fixed. The slides were up but not my speaker's view! There was little time to worry about it though and the scared me began the talk. I discussed different licenses, showed licensing scenarios in Python ecosystem and most importantly the best practices for the developers. I fielded a few questions on license, patent and copyright and applicability of Intellectual Property in general.
While I was explaining GPL was when I was being shown the first time card, the second and the final one during the best practices. I was wobbly seeing that and could not deliver my best. I need to learn quickly that if someone has listened to me before, I would understand something is wrong. While at the same time the first time listeners all praises.
The next part of the day was really interesting for me. I had long chat about different software licenses specifically GPL with Ronald. In spite of being a busy organizer, he answered all my questions, even the silly stupid ones.
See you FOSSASIA next year!
Whenever I come from a conference I come with a
Big to-be-read list
Big to-do list
More followers and more people to follow on Twitter
Some people I can call friends
I usually return from a conference with a heavy heart but not this time. I knew two cuddly hands and a smiling face is waiting for me back home.