In 2013, I was going through PyCon photos. The album was full of pictures of very serious looking geeks engrossed in their favorite back and green screen. Suddenly I saw the photos of people laughing, enjoying and joking . Many of them were women. Dazzled by the beautiful ladies, I asked my fortunate half(https://kushaldas.in/), "what is this place?", "Who are these people?"
"This place is magic", he replied. This was the night of the PyLadies Auction. Me, "What is PyLadies?""PyLadies is a global mentorship group. It focus, helps women to take active part in Python open source community. They are group of women who love to code Python. And this is the night when PyLadies organizes this auction. The money collected here goes to PyLadies. So it fun, laughter, good time and a good cause all at the same place." This, dear reader, was my first introduction to PyLadies.
And at that time I never (even in my wildest dreams) imagined that one day I would become a part of this beautiful group, and be fortunate enough to call these amazing ladies my friends.
From then on, every year I used to wait for these pictures to arrive. I was super excited when Kushal used to explain me the pictures,
"Heres Katie singing the 'Let it go' song to get a bigger bid for the Frozen poster."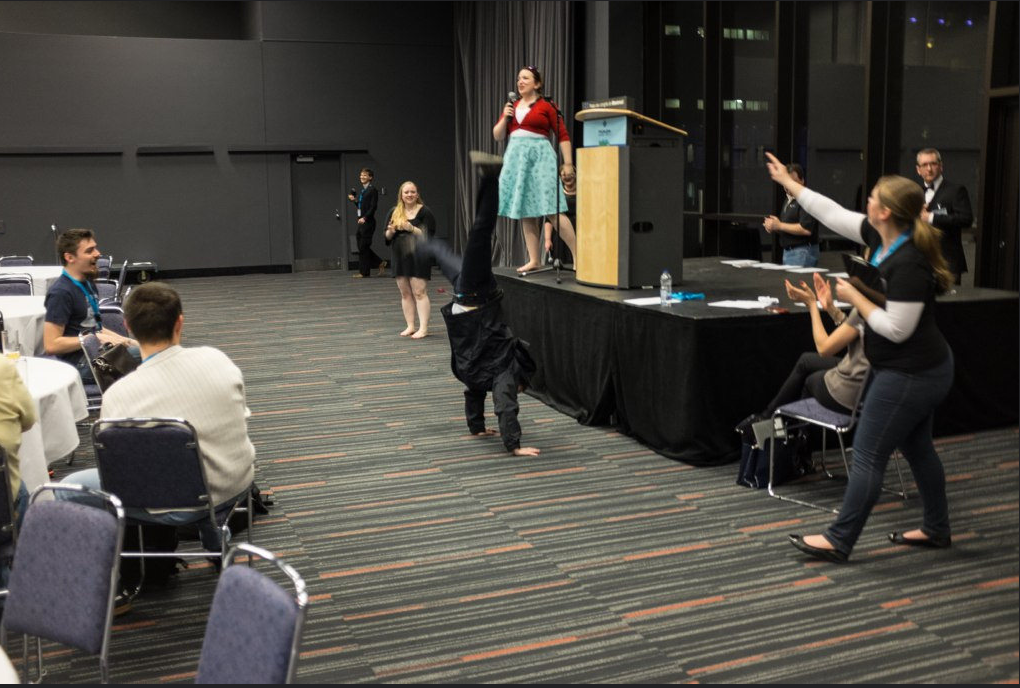 "This is Doug,he takes care of the auction."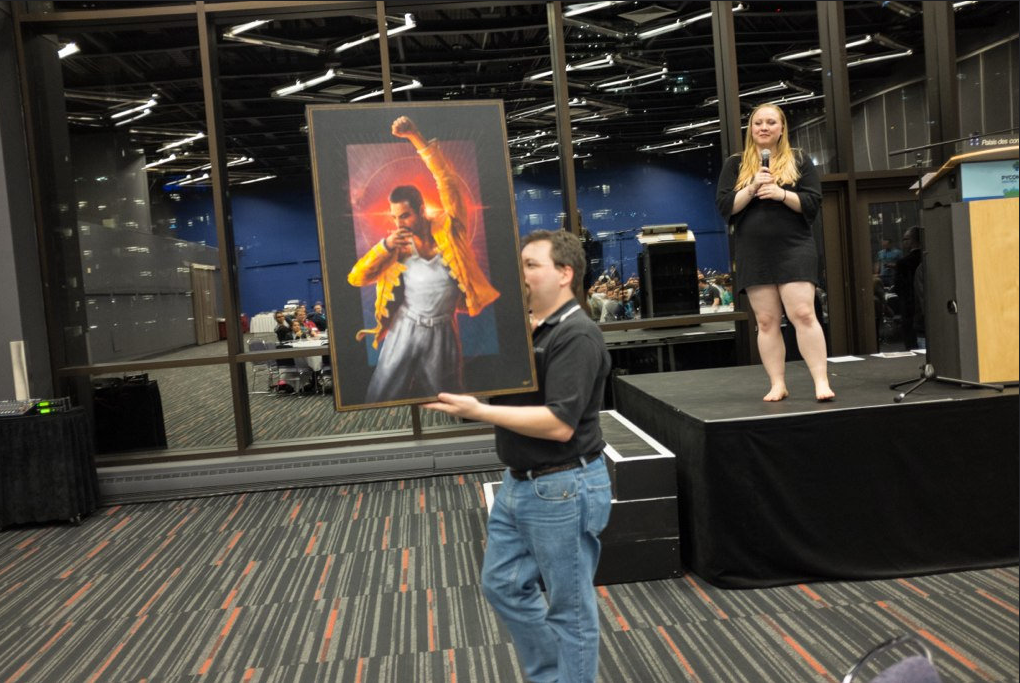 " Look at Brett, as Andrea is biding."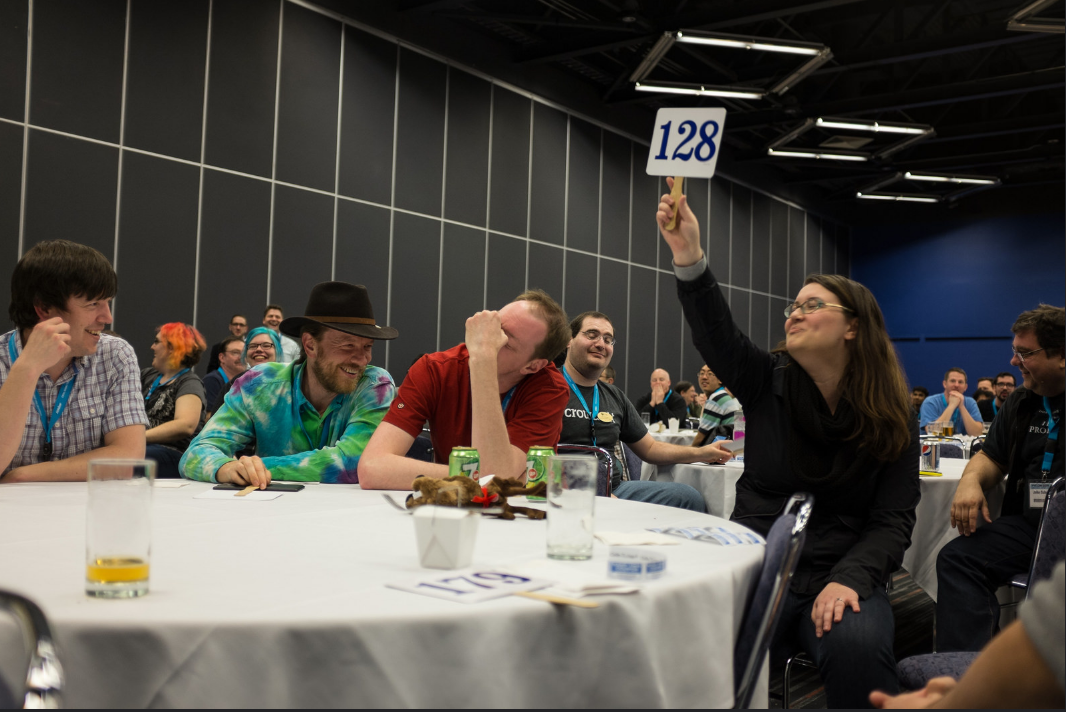 I got to know each one of them before meeting them in person.
I started collecting interesting things all through the year, for the auction. And eagerly wait to know the amount of money it brought to the PyLaides account.
In 2017 I finally had the opportunity to be a part of this fun fair. And what a night it was!. I still remember each moment vividly. We collected $21,275/-, the highest till date.
I also noticed that anything to do with Python, (the common love factor) would sell in higher price. When I was collecting things for this year's auction I kept that in mind. As I travelled to various PyCons I kept collecting items, that I thought would relate.
The first two things I got were from PyCon UK.
The thing that I noticed once I reached PyCon UK were the name badges. They had the characters of famous British personaliies, like Alan Turing, Sherlock Holmes, Dr. Who and several more on them. Those awesome-cool badges were designed by - Steve Hawkes.
The second is a pair of cool Python socks.
The PyCon UK organizers were really kind to give me a pair of those socks and the whole set of name badges. They were also signed by the designer Steve.
Next stop was PyCon India.
The opening keynote by Noufal Ibrahim. It was titled as "Mentoring - What, Why and How." He discussed about the various aspects of mentoring relating many of his personal experiences. It was so informative and helpful. The thing apart form his keynote that caught everyone's attention were his beautiful slides. Being the awesome calligrapher that he is, these were a beautiful set of calligraphic sheets. And also being the truly nice person he is, had graciously donated the original slides to the PyLadies auction. So while people in the conference were all praising them, I was like "Yeah! These are ours".
PyCon India Day 1, after lunch I took a little time off from the PSF and the PyLadies booth and went to check out the other booths.
Something caught my attention, and I froze (literally) it was pencil sketch of Noufal. It was made by a girl named Shiny Parashar. This amazing artist had made the sketches of the three keynote speakers (lucky them). I was awestruck by those. Then an idea struck me, 'What if she'd paint something for us to auction?' And Shiny readily agreed. She came up with a gorgeous sketch of Gudio Van Rossum. Bonanza! It is now signed by Gudio himself.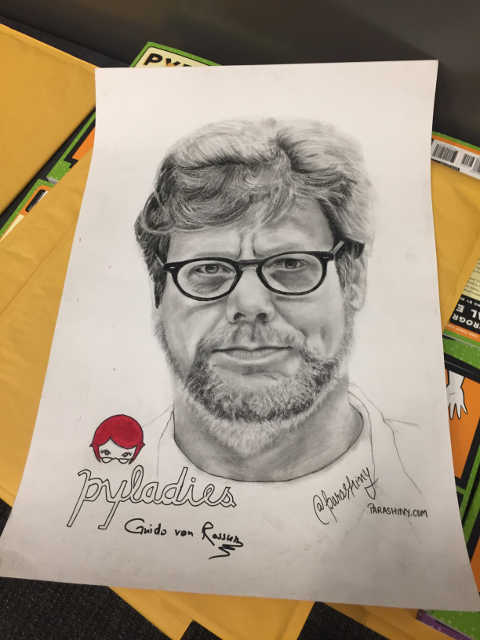 Apart from the above mentioned items there are other cool items too such as PyCon Guitar, painting by Lynn Root, stained glass Python logos sponsored by nnja and Microsoft! and a surprise pack by Kaite, famously known as the PyLadies Auction Queen along with many other awesome stuff.
Thank you everyone for your kind donations and gracious endeavor,it is truly appriciated.
People at PyCon, come one, come all and be a part of this great, fun cause and help us spread Pythonomania all over the globe.
See you on Saturday night.
PS: If the your budget is tight and you lost the fight in auction, you can always go and collect PyLadies swag from the PyLadies booth.