For the last few months we are trying to reboot the PyLadies Pune Chapter. In the process of doing so we are trying to garden the PyLadies community. There was mini debian conference happening in College of Engineering Pune. So,I thought why not use this platform for PyLadies. I submitted a talk, titled as " The World of PyLadies" and it got approved.
Two days before the event my talk was ready but I was not really happy about it. The slides were looking very pale, strictly informative and dry. Anyways I was tying to put Py to sleep by telling her a story, "Alice in Wonderland". An idea came "why not frame my talk in the story format?". So,I came up with - "Ladies in Py land". I did some changes in the slides. Thanks Kushal Das and Sayan Chowdhury for helping me with this.
Sunday, 31st July I reached COEP at 11 am. Found a seat in Auditorium, Track 1, where my talk was scheduled at 12. There was a talk on "Introduction to Latex"(by Aditi Bhat) going on. It made me reminded me of my early days with Latex, while I was preparing my Master Of Laws's research paper. This is something which made me interested in FOSS technologies. Aditi had kept the session very basic and interactive just apt for the students.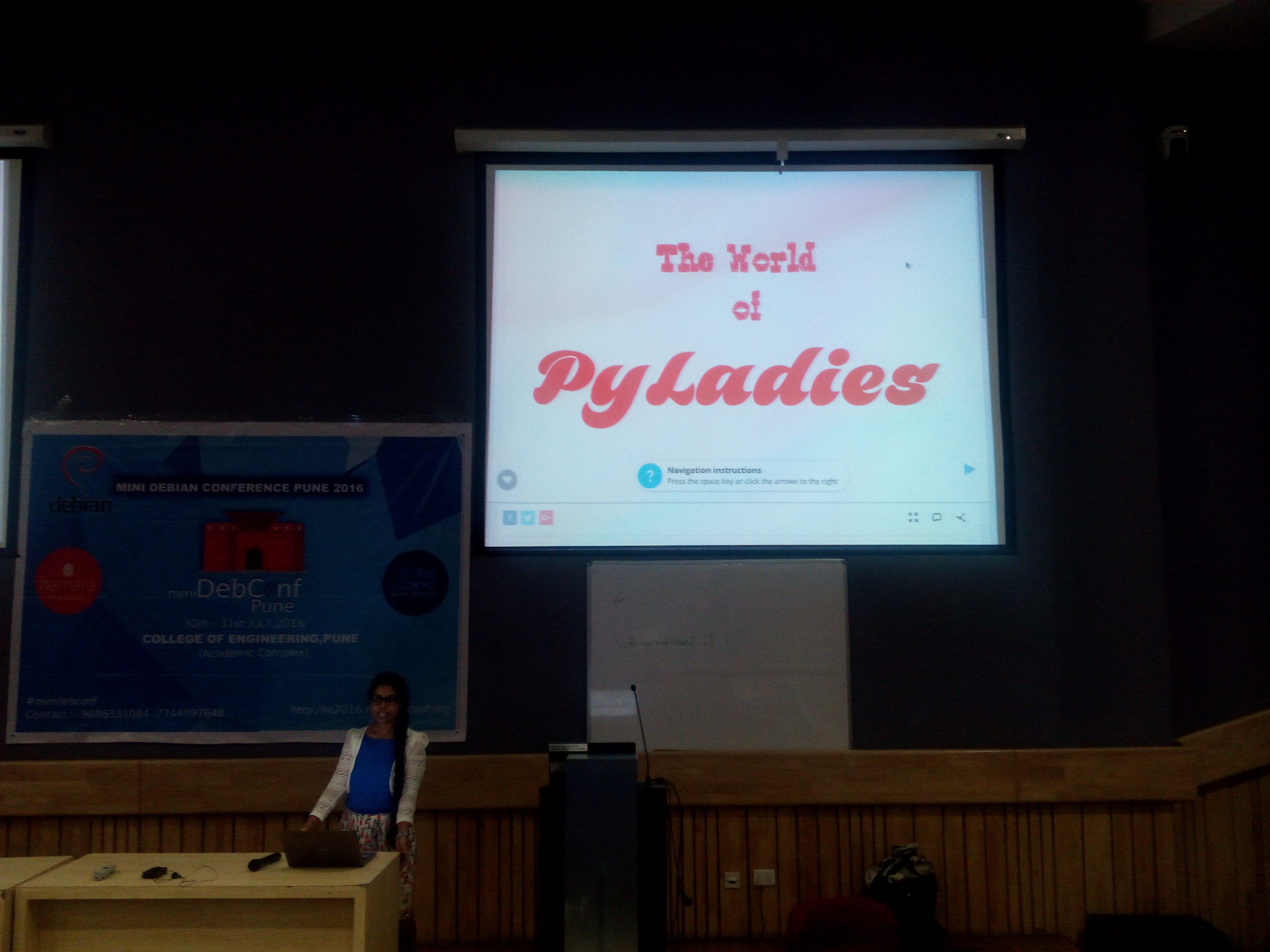 photo courtesy : Raju Vindane
I started my talk almost 15 minutes late. When they announced my name as the next speaker they asked said all the girls must attend this. At the very beginning I made it very clear that PyLadies is about women and friends ( not only about the ladies). Then I asked three questions
Q.1 Who all have already heard of Pune chapter of PyLadies?
Ans: No one. (So we are on the right track of rebooting)
Q.2 Who all know Python(beginner level)?
Ans: Few hands were raised.
Q.3 Who all wants to learn Python?
Ans: All the hands were raised. (Great I am in front of the right crowd)
Then I started my story "Ladies in Py land". I have made my slides at slides.com. Everyone present there had the a clue already of what I was going to talk about. I had given them some glimpses of Python, Pyladies, Mission of PyLadies and PyLadies Pune Chapter. Then my talk consists of some points of our future goals for PyLadies Pune. When I said that we really want to concentrate not only to Python but also on Open Source, the basic Philosophy, Basic Communication skills over the internet, some other basic things to do project online and also basic legal concepts. People were like why legal is important? What is Intellectual Property? What is the difference between Patent and Copyright? Which license is good? Is it important to choose a license for a project or not? If yes then why? Suddenly I figured out that this talk is going too bit legal. So I just dragged it to our main discussion of PyLadies and asked them to join us to get all their answers. And ended with the point that how could one join PyLadies. I also took the opportunity to announce the August PyLadies Pune meet up. As soon as my talk finished people just poured their questions to me (and I was really happy giving answers to that). Some of them came and said that they really liked the way I presented it in a way of a story.
Then after I quick lunch I was asked to take another session on licenses but it turned out to be a informal discussion. After that there was the cake cutting ceremony and that ended the event. It was a good day spend, met with new people, made friends and most importantly hopeful people got to know about PyLadies. Thank you mini debianconf and their wonderful organizers.
So, people see you all at the PyLadies August meet up at Red Hat office 7th this month.(see I am so greedy I never miss a chance to invite people to join PyLadies).