My morning starts with the quick look at twitter.
Yesterday some tweets drew my attention - The Internet Archive over at http://web.archive.org has been blocked in India. There was a long thread going on, and people were asking, updating thoughts and opinions on the matter.
Ok, this is something important.
What is archive.org?
I searched. I did not have any idea about this previously.
I found that one of the most important projects on the site is "The WayBack machine"; for the site serves/saves/documents the history of the world wide web. Therefore it gives you a salient history of different sites on a single search.
But for last few days many people, in India, could not access archive.org and The Wayback Machine.
Instead, this is what people saw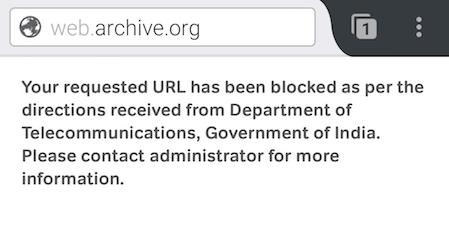 Specifically, the http://web.archive.org has been blocked but when you add the secure "s"; https://web.archive.org can be accessed.
It was important to have information about which ISPs were actually blocking the site. Tweets poured in from people, across the country. You can find an elaborate list of these ISPs in this blog post by Medianama.
Officials from archive.org were trying to contact the authorities, in India, at the Ministry of Electronics and Information Technology (MEITY) and the The Telecom Department (DoT). Unfortunately they never responded.
Recent update:
According to a tweet, the site was banned according to a judgment made by The Madras High Court, in Prakash Jha Productions v/s Bharat Sanchar Nigam Limited and Others (being, O.A.Nos. 705 to 707 of 2017 in C.S. No. 576 of 2017). It could not be confirmed due to the unavailability of the original judgment document.
According to the tweet by Anivar Arvind, it was a John Doe order. John Doe order means an order passed by the competent Court of Justice against unidentified defendants.
The confusion:
The silence and lack of/no communication on the part of the Government authorities created a lot of confusion.
There were questions such as -
Why is the site blocked?
Who blocked the site?
Is there is any provision to remove the block? And measures (if any) to be taken.
Unfortunately the request is not been heard by the concerned authorities till now.
The sole requirement in this context is, transparency and clarity.
We, the common people have the right to know what is happening in our digital space.
Denying that is a repudiation of a basic and primary right of ours.
The situation has posed a serious question in front of us,
Is this a step taken by the authorities to curb, and restrain our digital (fundamental) rights? (though the Government is trying its level best to prove that we do not have one.)